Hello Sweetheart, let's have a look and see what Aries man is up to in April and what you can expect.
Well, the good news is that April is a new month, a new day, a new dawn and he should be feeling fine!
This month Aries guy is sure to be filled with get-up-and-go, and it is a really productive and exciting month for him and it's going to be a white knuckle ride for you, so get your seatbelt on.
Let's first look at some of the significant planetary activities this month.
Mercury goes retrograde on the 21st in Taurus
This retrograde occurs conjunct Uranus and this is quite significant, because Mercury retrograde indicates the unexpected and crossed wires, which is amplified by Uranus. You and Aries guy should certainly be prepared for anything, so from the 21st don't make any firm plans, rather be spontaneous and ready to fly by the seat of your pants. Ensure you have a plan B and C at the ready.
The latter part of April is definitely not a good time for making financial commitments (either him or you guys as a couple) or trying to organize contracts, because people are likely to change their mind or there can be last minute snags. It's particularly important to back up your data and to be prepared for any technological breakdowns, power cuts or such like, which are quite common with Mercury retrograde but more so when it's conjunct Uranus.
Solar Eclipse in Aries on the 20th of April
While this is an excellent time for renewal, for taking action on implementing new plans and being entrepreneurial, it's also a month when he may experience great indecisiveness. In one respect he may be all ready to go, but he is not exactly sure what route to take, and that's why although it's a good time for him to initiate, he should be open minded about the steps he is taking. So let him know that it's not the end of the world if it's three steps forward and two steps back initially, as long as he's learning from the experience. Everything he attempts now is about learning and gathering momentum, not necessarily about getting it right the first time, so be encouraging when he's bumping how head.
Sun Conjunct Jupiter on 12th April
This is a once in every 12 years' experience, it's a powerful and exciting time for Aries guy.
This is an excellent period for an improvement in optimism, confidence and his overall well-being. In terms of good activities to engage in as a couple, it's certainly an opportune time for sporting activities and outdoor goals, but in general he should feel a higher level of energy and his recuperative powers are supercharged. Even if he's been feeling a little bit blue, has been suffering illness, or has been feeling under the weather for whatever reason, this is a month when he can turn it all around and start on an upward trajectory. So help him to throw out everything that's gone before, because April is a fantastic time for a reset and a new start, more so than your average April.
Venus enters Gemini Square Saturn – 14th April
This means that although online romances are quite tempting, it may not be the best idea when it comes to Aries guy. If you are chatting to Aries guy online or having a long distance relationship, it's important to be discreet and keep the relationship quite private.
This is a time where words come easy to him and he may make promises or commitments in the heat of the moment, or he may even make unplanned romantic advances on the spur of the moment. However in new romance, in particular, you and Aries guy could be lying to each other, either consciously or subconsciously, about what you really desire or feel. New relationships could be superficial in nature, so understand that there's still much to learn.
There are many unknowns in love this month, and small things can make him feel disheartened. Thus it's important if you do enter a relationship with Aries guy, to do so with your eyes wide open, and to stay grounded in common sense. As long as you don't get carried away, and there aren't any warning signs, there shouldn't be a problem.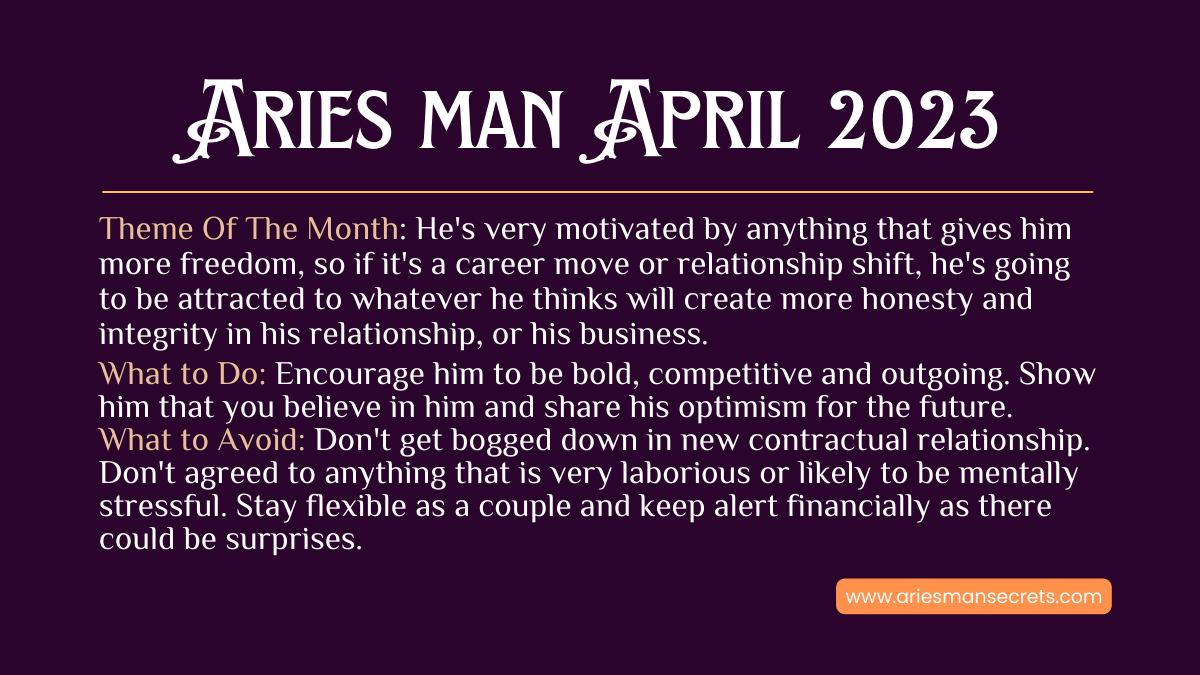 Theme – Energy and unchartered territory : While the energy level of the whole month is rather high, the end of the month is particularly conducive to taking an uncharacteristic approach to a problem and entering uncharted territory. He's very motivated by anything that gives him more freedom, so if it's a career move or relationship shift, he's going to be attracted to whatever he thinks will create more honesty and integrity in his relationship, or his business business.
Magic Phrase :"You don't necessarily need experience because you have the courage of your convictions."
Magic Text: "I'm ready to take off this weekend, let's go somewhere we've never been before!"
Do: Encourage him to be bold, competitive and outgoing. Show him that you believe in him and share his optimism for the future.
Avoid: Don't get bogged down in new contractual relationship. Don't agreed to anything that is very laborious or likely to be mentally stressful. Stay flexible as a couple and keep alert financially as there could be surprises.
Week One – Exciting Times Ahead
While Jupiter has been in Aries for part of last year and all of this year, this particular week really sets the stage for taking new activities to the next level. He may feel a momentum has been building, but now is the time when he can really see the prize and he has victory in his sights, this should mean better prospects for you both.
What's really important now however, is to be flexible, don't take anything for granted, and with Mars in Cancer, it's important to remind him to be subtle and to take a zigzag approach to the obstacles, rather than trying to nail them head on. This is because there is still an element of surprise and a lot of change is happening, especially with Mercury retrograde, and he doesn't want to be committed to one route, so help him to stay open minded, observant and flexible.
Week Two – Socially
This is an excellent time for Aries men who are involved in business networking, sales and management. He is able to touch base with lots of new people, with new ideas, and this can help inspire him.
It's an excellent week for him creatively, and that's why it's advisable to do things together that are out of the norm.
He may need support organizing events for team building or networking and in many cases it's good to get away from the office and a 'normal' environment to free you guys of the normal inhibitions and restrictions.
It's also a good idea for him to work from home and avoid any errands or long distance travel, unless of course it's a spontaneous trip where you've got a lot of time on your hands to ride out the delays and hiccups. If he needs to do be somewhere exactly on time, he should cancel those plans because the latter part of this month is unpredictable.

Week Three – Communication in Love
Good communication is really important in relationships, but that doesn't mean long-winded conversations, as that can create more problems than solutions. The key is renewing the fun-factor to communication with Aries guy having more banter, joking around, being supportive to each other and being thoughtful.
You don't necessarily have to put aside time for long winded debates around the kitchen table, because there's not a lot of time and thus it is not a good week for that kind of communication. It is a good time however, for you to enjoy spontaneous outings and trips with Aries guy and mutual friends, simply to lighten the mood and to re invigorate your verbal interactions.
It may well be that there are a couple of things bothering you in your relationship: things you don't fully understand about Aries guy or about what's happening in the relationship. However, this week it's more important to focus on yourself i.e. what you want and how you can replenish yourself. The more his high energy subsides, the more you'll be able to deal with deeper issues in the relationship in the following months, but he simply doesn't have the concentration to do it this week.

Week Four – Fuel Injected
The last week of April is supercharged with action, this is a wonderful time for spontaneous activities, journeys and new experiences. It is also very good time for him to be networking and meeting important people who can help him in his business, so be prepared for him working late and doing work events.
So, how does that all sound my Darlings. Remember, I'm always here to guide and support you.
So the message to give your Aries man this month is: "It's all to play for, so don't hold back, be positive, embrace this month and enjoy yourself."
There are lots of new opportunities, but remember to remind him to keep an open mind, he shouldn't prejudge anything, go with the flow as a couple, live in the moment and it's amazing what you will achieve together.
If this hasn't quenched your thirst, you know where to find me, same place, as always.
Wishing you love and luck with your Aries Man,
Your sister and relationship astrologer,
Anna Kovach