Hello, my darlings, have you recovered from the crazy and unforgettable night of celebrating the beginning of 2023? I hope you have because I come bearing the crow tidings from the 'great beyond' for the Aries man's predictions for this first month of the new year. Let us dive into these star-crossed prophecies!
The first week of January asks the Aries man to slow his pace down and utilize the (lucky) power of Jupiter in his first house. It's a good time to explore each other platonically and to give objective advice on matters where he could use more luck in his life. 
The second week of the month offers some pretty neat opportunities for dates and hot chocolate – in the same sentence, yes. It's also a good time to enter productive and fun debates with him, to stimulate his mind and vision. He should learn how to not be afraid of moving backward to rectify some of his mistakes. 
The third week offers great opportunities for growth for the Aries man, and he will be a fool if he doesn't use them. This Super New Moon in Aquarius is a great chance for him to infiltrate the vectors of virtual reality, and plant the seeds of his internet success deep into the subconscious soil of the online minds. 
The fourth week offers a very nice ending to this starting month of 2023. The Aries man has the opportunity to grow his intimacy and romantic life, and both his fun-loving side and creativity will be to the max.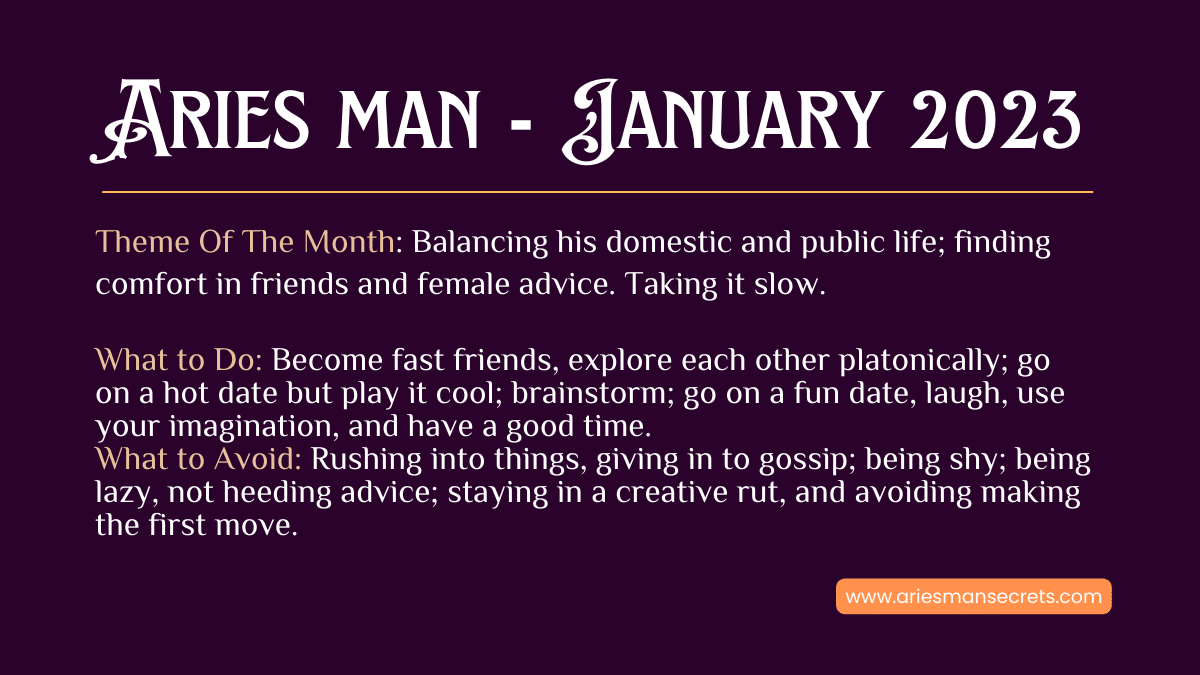 Theme Of The Month: Balancing his domestic and public life; finding comfort in friends and female advice. Taking it slow.
Magic Phrase: "Not all who wander are lost… deep roots are not touched by the winter frost."
Text Magic: "Handsome, I'd like to hear more about that rumor of you where you turn out to be a capeless hero…"
What to Do: Become fast friends, explore each other platonically; go on a hot date but play it cool; brainstorm, enter the vectors, enjoy 2D art; go on a fun date, laugh, use your imagination, and have a good time. 
What to Avoid: Rushing into things, giving in to gossip; being shy; being lazy, not heeding advice; staying in a creative rut, and avoiding making the first move.
Access to Aries Man's Horoscope here –> Aries Man Secrets 2023
Becoming Platonic Lovers 
The first week of January brings extreme good luck to the Aries man's door, thanks to Jupiter who has entered his sign for the next couple of months. During this first week, Mars, his ruler, is still Retrograde in Gemini, his third house, and he should be more vigilant in traffic and behind the wheel. Also with his tongue – his words need thinking through before he speaks them, lest he causes a vocal jam. 
His dreams are peculiarly heightened and his intuition is in hyperdrive thanks to Neptune in Pisces; this gives him the ability to enter and influence other people's dreams, believe it or not. So, if you have a dream of him during this period, you can rest assured that he is thinking of you, and quite intensely. 
On the 6th, there's a Full Moon in Cancer, in his fourth house, and this transit will activate both his public and domestic areas of life. He will be called to address some rumors that are going around about him, especially at work, thanks to Mercury Retrograde, but at the same time, his family and home life will want attention from him. 
This first week of January is a good time to get closer to him in a friendly and spiritual way and to feel the terrain by becoming one of the familiar faces in his close circle of friends. You can use this week wisely by asking around about him, listening to what other people have to say about his deeds and actions, and selflessly being there for him if he needs it. 
Revamping His Alter Ego 
The second week of January brings good news: Mars, his ruler, is no longer Retrograde, the Moon activates his house of love and partnerships, and Venus brings good news to his friends' circle. He is feeling pretty good, thanks to Jupiter in his first house and his ruler finally turning direct. Out of all the planets, Mars hates it the most in the Retrograde, thus the Aries man never feels great during the (long) Mars Retrograde period. 
His dreams will be weird during this week, but still prophetic, and they might even offer good advice for some of his problems that are still present from the Full Moon in Cancer from the previous week. They also might point toward a love interest who has successfully infiltrated his friend circles and is biding her time. 
This is a great time for him to review his career choices and public presentation of his persona. If he has an alter ego, or if he is in the sphere of public domain (like being an internet celebrity), this is a good time to 'redeem' his image somewhat or to revamp his social media. 
It's a great time for romantic advances, so if he doesn't make the first step toward you, you can feel free to make one toward him. Ask him out on a fun date, or for a coffee, and while you're sipping your beverages, you can showcase your observation skills to him by giving unpreceded advice and helping him reimagine his public image. 
Follow the White Rabbit… 
The third week of January offers ample opportunity for both career and friend circle growth. This is a good time for planting the deep seeds for success and internet fame (adversely, for spreading good rumors about himself on the internet; publishing his app; applying for job openings at high-tech companies…) while at the same time receiving love from an older or more mature woman friend or lover. 
This week, on the 21st, there's a Super New Moon in Aquarius, and this makes for great opportunities for his mind to expand, and for his fame and popularity to grow via the internet. As I said, if he has anything to do with the public domain via VR – this is his time to shine and plant the seeds of future success. 
Good luck is on his side, and if he uses his intuition and psychological creativity in order to infuse his business ideas with them – he can amass a larger following, and his work can really reach new heights of good quality. 
As for his love life, this week he is open to receiving very good, objective, and solid advice, as well as warmth and love from either an older lady or an old friend who can turn into a lover very fast. This is a great time for him to spend productive and creative evenings with friends, listen to a different perspective and voice than his own inner monologue, and come out of these encounters richer than before. 
A Pleasant Close To The Starting Month Of 2023
The fourth week gives a great opportunity for the Aries man to focus on his body and finances, as the Moon crosses over the North Node in his second house. This is also a good time to ask him out on a date that involves sweets and bakeries. 
His mind will focus on creativity and humor, so if he asks you out on a fun and creative date, like a stand-up comedy night or a museum walk – go for it. His need for intimacy and creativity is very high right now, thanks to Venus moving into Pisces and his twelfth house, and this transit offers a great chance to increase the intimacy between you two. 
Mercury has also ended its Retrograde walk, and this means good news for his career and public life, the gossip is coming to an end, and he is (finally) able to move forward, a little bit wiser and richer. 
Final Thoughts 
There you have it, my darlings; the Aries man's mood will be a bit on the low side during the first couple of weeks, thanks to Mars Retrograde, but then, after the Full Moon in Cancer, his mood will start to slowly rise up to higher levels. 
The last couple of weeks, especially the last couple of days of January, offer a very creative and straightforward opportunity to grow your emotional and mental connection and to go out and do something fun. 
Three rare transits in 2023 will shake him up heavily but also offer you an incredibly powerful opportunity to make your bond with him stronger than ever…
These planetary transits will play with his subconscious, and he won't even be able to grasp why he's suddenly feeling different.
That's why you need to understand what's happening inside of him and know how to position yourself through the different phases your Aries man will go through in 2023.
When you align with his subconscious needs, he'll have no other option but see you as the only woman that ever got him.
Want to be the only woman he ever needed? In his most challenging, but also in his most fun and beneficial times?
Then make sure you go ahead and grab the opportunity to prepare for 2023 on time. Check what I've prepared for you in the link below.
–> Make Your Bond With Aries Man Stronger Than Ever in 2023
Stay creative, free of mind, and free of spirit. Until next time, my darlings.
Love and light,
Anna Kovach
---
---