Hi, there ladies! How was your February? Full of love and romance I hope! March is probably the most important month of the year, so hold onto your bootstraps because a lot is about to change in the world and the psyche of your Aries man.
Jupiter and Venus are both in the sign of Aries this month! Your Aries man is on fire in March. He'll have an extra dose of luck for most of the month which will make him totally irresistible. You might be in for some competition as you're not going to be the only one who notices how amazing he is. 
The Full Moon in Virgo on March 7 might bring a big project to a head for your Aries man. If he isn't giving you attention it is probably because he is focused on work. Give him some space to finish out his tasks and don't take his silence too personally.
Saturn enters Pisces on March 7 which is going to bring massive changes to the world, but definitely to your Aries man. This planet will be here for the next 2 and a half years. You will quickly notice that your Aries man is a lot more contemplative and interested in the spiritual from this moment forward. He may isolate himself as he deals with a lot of his unconscious fears over this transit. Luckily Jupiter is in his sign until May which will help him make this transition.
Pluto enters Aquarius on March 27 and this brings a turning point in the world as this planet is going to stay in this sign for the next 20 years. The changes will be subtle on your Aries man but you will notice his friendships start changing and a new sense of power will start to emerge within him. His hopes and dreams will be completely transformed by this process.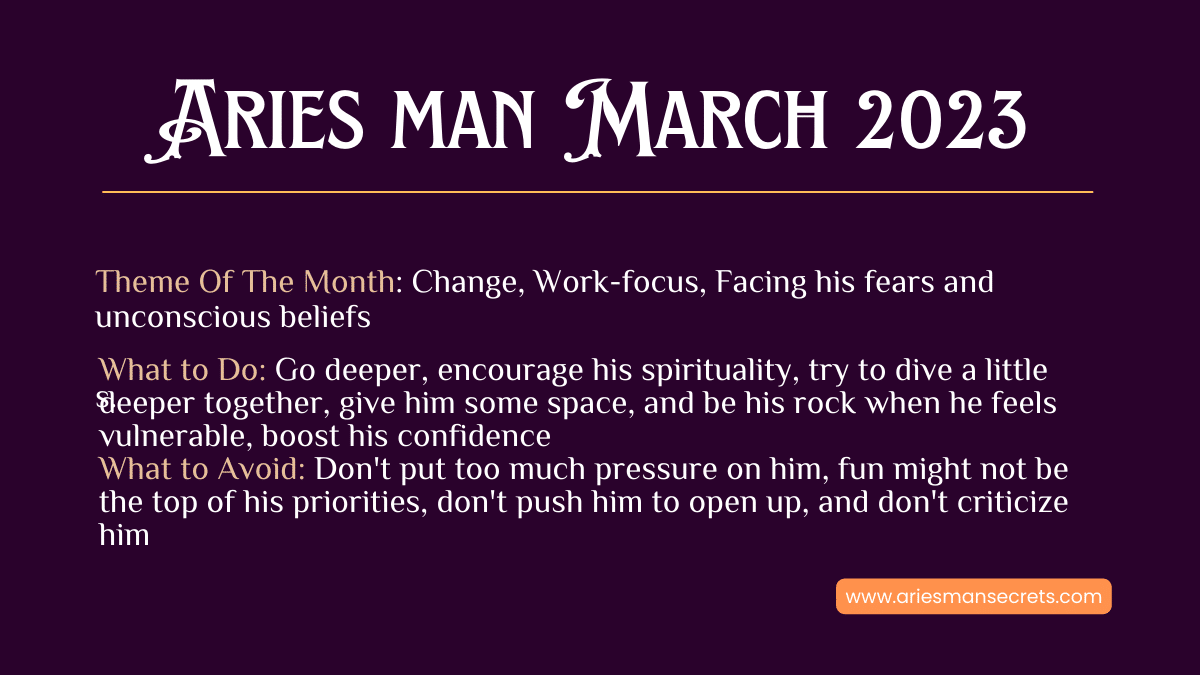 Theme of the month: A lot of change is taking place for your Aries man this month. He is going to have to start facing his fears and unconscious beliefs if he really wants to step into his power to become the man he was born to be.
Magic Phrase: "I am proud of the man you are becoming"
Text Magic: "I heard there is an amazing yoga class, care to join me?"
Do: Go deeper, encourage his spirituality, try to dive a little deeper together, give him some space, and be his rock when he feels vulnerable, boost his confidence
Avoid: Don't put too much pressure on him, fun might not be the top of his priorities, don't push him to open up, and don't criticize him
Access here Your Aries Man's Full 2023 Horoscope 
There Is No Stopping Him
For the last couple of months all Aries men have been blessed by super lucky planet Jupiter being in their sign. When Jupiter is in their sign, they experience a great amount of luck and support from the Universe. Everything just flows with ease. 
Whatever your Aries man puts his mind to, can easily manifest because of Jupiter sending him a bunch of lucky kisses. But this month of March this luck just goes up a level because Venus, the other lucky planet is also meeting in his sign. 
This guy can literally do whatever he puts his mind to over this transit. And trust me, this energy is just going to make him even more irrisistable than he already was. A lot of attention and interest is going to come his way. 
So don't be surprised if you have to compete for his attention. Let him enjoy this time of extra confidence because a lot is changing in the sky this month and it is likely going to turn him into a bit of an introvert. 
Give him the space to achieve all of his goals this month and don't get too needy when he doesn't give you much attention. He'll appreciate it more if you can lean back and give him the space he needs.
Work, Work, Work!
The Full Moon in Virgo is going to be a bit of a work focused time for your Aries man this month. There is likely a big project that is wrapping up that is taking all of his attention. It is very important that you don't take things personally when he seems to have his focus elsewhere over this time. 
Be supportive of your man and his goals and show him that you are in his corner, unconditionally. Your support will mean everything to him. Give him the space to be productive so that you can enjoy the fruits of his labour together when everything is wrapped up.
Diving Deep
A big turning point is about to start in the life of your Aries man. Saturn the planet of limitations, restrictions, responsibilities, and karma is entering Pisces as well as his 12th house. He is about to transform into someone totally unrecognizable. 
This is going to be a deeply spiritual time for him, but this transit won't be easy necessarily. It is quite possible that he will need to face a lot of his unrecognized traumas from the past. If he resists this, he will suffer, but if he embraces this it will give him the capacity to be deeply empathetic and help him to access intimacy on another level. 
If you want to be with your Aries man then you are going to have to be very patient with him and realize that his healing should be his number one priority right now. You are going to have to accept that if you want the best version of him, then you are going to have to allow this to unfold. 
This might be challenging for your relationshio because you will notice he may want to spend a lot more time on his own and in isolation. The best thing you can do is to support him in this process and perhaps you can see what you can learn from this yourself?
Transformation and Trust
Pluto moving into Aquarius is about to bring a lot of change for your Aries man. The way his life is right now will never be the same. This is a very subtle and gentle forray into Aquarius because Pluto will be moving back and forth between Aquarius and Capricorn for the next few years. 
The change won't be imminent, it'll take time to develop but your Aries man will feel something powerful starting to emerge and shift in his life. The area this transit is affecting is his 11th house of friendships, communities, hopes, and dreams. 
It i possible that your Aries man might make some very powerful connections over this transit that will completely transform his life. You know they say is isn't what you know but who you know, and this transit is the perfect example of that. 
If your Aries man is an Aries ascendant then this will have the most profound impact on him, more so than Aries sun signs. Pluto will be making a positive aspect to his Ascendant and it will be much easier for him to step into his power and move into being the man he has always wanted to be. 
Massive shifts are awakening in his unconscious. It is important that you accept that he is going to change and hopefully change with him because he is only going in one direction right now and that is up. Trust me, you don't want to be left behind.
Want to get the guidance to be his dream woman in 2023? Take a look at Aries Man 2023 Secrets here.
Final Word 
And there you have it my darlings, if this hasn't quenched your thirst, you know where to find me, same place, as always.
March stands to be quite an exciting month for Aries man and his companion, so make sure that you're prepared for better or worse, and that you sharpen that warrior spirit. 
This is a month of major changes and it may feel like a bit of a rollercoaster ride, but if your own spiritual practice is sound and strong and you know how to soothe yourself, then dealing with the changes of your Aries man shouldn't knock your confidence too much. 
Ask him how you can support him and what he needs from you, but don't forget about your own needs and taking care of what you need first. Neither of you are ever going to be the same, but it is better if you can manage to grow together instead of apart. 
So have fun, go wild, and I'll see you next time around, 
Wishing you love and luck with your Aries Man, 
Your sister and relationship astrologer, 
Anna Kovach
---
---