Every month the planets change signs and affect our relationships. Depending on the planetary movements, you may not always understand the needs and desires of the Aries Man. 
However, there are simple things that you can do based on the monthly energy to improve your relationship with the Aries Man. Find out how to attract an Aries Man in December 2020.
Attracting an Aries Man in December 2020
1. Focus On The Good
When it comes to attracting the ambitious Aries man in December 2020, you may need to put on your running shoes because this busy man is on the go! 
Whether he's chasing one of his many work projects, planning spontaneous road trips and mini adventures for the holidays, or studying a new course, the Aries man is ready for a good time in December 2020 (as long as it fits on his schedule). 
If you're wondering where all the good cheer and excitement for life is coming from with the Aries man, it's because the Sun is in fellow fire sign Sagittarius until December 21. 
From December 1 until December 21, the Sun in Sagittarius will highlight the Aries man's ninth house of exploration, travel, and higher learning. 
As a fellow fire sign, Aries feeds off of Sagittarius's free-spirited energy. The Aries man will naturally feel regenerated and most like himself while the Sun is in his element (fire). 
Because the ninth house focuses on expansion and self-discovery, the Aries man is most attracted to the woman who has a positive mindset and outlook on life. He wants to be around someone happy and upbeat. He wants someone that makes him feel good. 
To capture the magical influence Sagittarius season has on the Aries man, perhaps you could incorporate more fun and light-hearted activities into your routine as a couple. 
The Aries man will also be attracted to the woman who is open-minded and sincere. He wants someone who can make light out of any negative situation. 
2. Get Intimate
Stillness and intimacy can be foreign words to the active and independent Aries man, but this may change in December 2020. 
From December 1 until December 15, Venus, the planet of love and beauty will journey through the sign of death and rebirth, Scorpio. 
During this two-week period, Venus in Scorpio will highlight the Aries man's eighth house of sex, intimacy, and the subconscious mind, causing the Aries man to be more sensual than usual. 
Because of Venus's placement in the Aries man's eighth house, the Aries man is most attracted to the woman who is comfortable expressing her sexuality. He wants someone affectionate and intense. Someone who can match his libido in and out the bedroom. 
More than sex, the Aries man is most intrigued in December by a strong emotional connection. He wants to attract a partner that can fulfil him in every way (mentally, physically, emotionally, spiritually). 
If looking for ways to add more spice, try doing something like massage or eye gazing that brings you together. 
You have to be vulnerable if you want to catch the Aries man's attention this month.
3. Set Your Expectations For The Future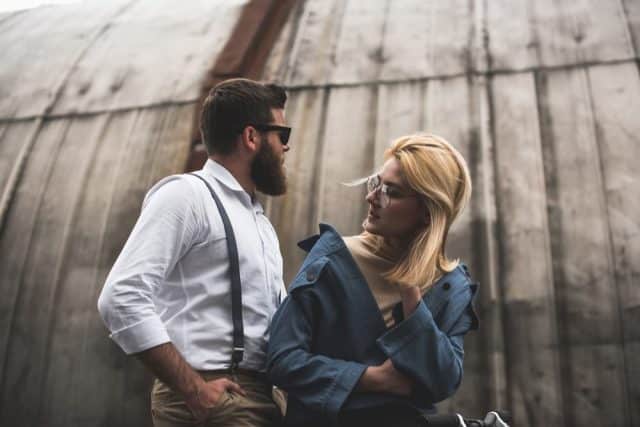 For the past twelve months, the Aries man's primary focus has been on his professional reputation and long-term wealth. 
From purchasing real estate or land, investing into a new business or income stream, working with those in authority, and building generational wealth, the Aries man may have had a hard time balancing his commitments with those he loves. 
But as the year comes to a close, so does the current Jupiter and Saturn cycle. 
Since late 2017 and 2019, Saturn and Jupiter have been transiting the tenth Zodiac sign, Capricorn. 
Saturn represents the Aries Man's life lessons and Jupiter represents his area of opportunity; where he is trying to expand. 
However, with Jupiter entering Aquarius on December 19 and Saturn entering Aquarius on December 17, the Aries man is ready to shift his focus to the future, and he will only commit to someone he knows is down for the ride. 
With Jupiter and Saturn in Aquarius spotlighting his eleventh house of friendships, dreams, and community, the Aries man is ready to use the wealth and fortune he created when Saturn and Jupiter were in Capricorn to bring light and evolution to his community. He is ready to give back. 
Therefore, if you want to attract an Aries man in December 2020, you need to be clear and direct about what you desire for a future.
For example, Aquarius is an intellectual air sign, so naturally the Aries man will want to write and talk about his thoughts. 
Perhaps you could make a bucket list or a visual vision board of everything you want to do together. 
Aquarius also rules groups, so this is an excellent time to show the Aries man you are invested in his future by committing or contributing to an organization or higher cause that you both love. 
Read next: 3 Reasons Aries Men Avoid Commitment—And What You Can Do About It!
4. Be His Solace During Stressful Times
Although December 2020 is a very positive month for the Aries man, the Cancer Full Moon on December 29 may have the Aries man in tune with his most tender feelings. 
On December 29, the Full Moon in Cancer will highlight the Aries man's fourth house of home, family, and emotional foundation. The fourth house is the house that makes you feel comforted, cared for, and most importantly, safe. 
With both Aries and Cancer being cardinal signs (which means they challenge one another), there may be inner resistance within the family or the home, causing the Aries man to be stressed or upset.
If this happens, find simple ways to comfort the Aries man and calm him down. Because the Moon is Full, everything feels more dramatic. 
Because the Aries man is not one for stillness and immobility, perhaps you could try an active meditation. Perhaps active stretching like yoga or taking a walk will help calm his nerves. 
Also, be kind. The Full Moon in Cancer heightens the Aries man's sensitivity, making it a special time to shower him with affection and unconditional love.
Overall, the energy of December 2020 encourages the Aries man to find a balance between his love for adventure and emotional connection. 
Therefore, to win and attract the heart of an Aries man in December 2020, focus on the good in your relationship, prioritizing intimacy, getting excited for the future, and being his comfort in times of busyness and high stress. 
If you're ready to dive deeper and start your journey to unconditional love with your Aries Man, my guide Aries Man Secrets is better than any daily, weekly, or monthly horoscope app you'll ever read. 
Instead of just giving you the basic knowledge of the Aries Man, I share real-life stories and examples of women who have been where you are and now have the relationship of their dreams.
In this intuitive guide, I'll share with you my top secrets on winning the heart of the Aries man. If you're ready to stop chasing the Aries man, purchase Aries Man Secrets here.
After you've purchased my guide, Aries Man Secrets, take the free love and compatibility quiz to find out if you and your Aries man are a match.
Let me know your results in the comment section below.
I look forward to hearing from you. 
Your sister and Relationship Astrologer,
Anna Kovach 
---
---