Every month, the planets change signs and affect our relationships. Depending on the planetary movements, it may be tough to understand the needs and desires of the Aries man. But with my tips based on the monthly energy, you can draw the attention of an Aries man or improve your relationship with one in November 2020.
Attracting an Aries Man in November 2020
1. Give Him Space to Breathe
If you are used to the Aries man being outgoing, passionate, and always open to having a good time, you are in for a surprise this November. 
From November 1 until November 21, the Sun in secretive Scorpio will highlight the Aries man's eighth house of rebirth, death, and emotional intensity. 
In astrology, the eighth house is known as the underbelly of the soul. This is the house where you do deep emotional work and inner healing. 
When the Sun visits the eighth house, it is time to slow down and go within. The external focus is no longer on others but the internal self. 
Because of the Sun's placement, the Aries man is most attracted to the woman who respects his need for privacy and personal space. Rather than forcing him to spend time with you or constantly asking him what's wrong, relax. 
I know it may be difficult to accept that the affectionate Aries man is giving you less attention, but as long as you don't provoke him, it won't be personal. Perhaps you should reframe your thinking and see this as an opportunity to build trust and connect on a deeper level. 
More than a wife, girlfriend and/or potential lover, in November 2020, the Aries man needs a friend. He needs to know that regardless of what he experienced in the outside world, you will be there for him when the day ends. 
If you can maintain this level of respect and compassion, the Aries man will be more than willing to take your love to the next level once the Sun leaves Scorpio and enters Sagittarius on November 21.
For the last two weeks of the November, the Sun will highlight the Aries man's ninth house of exploration and adventure. During this transit, the Aries man will be eager to get out and about and try new things together. 
Give him time. 
2. Let Go of the Past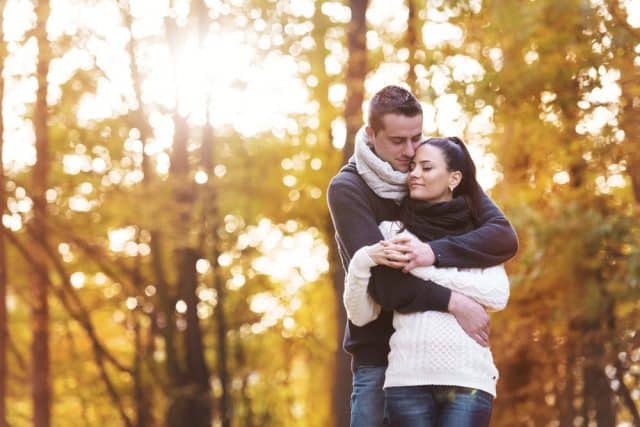 Have you and the Aries man been more combative than usual? Are you ready to bury the hatchet and reconnect? 
If yes, the New Moon in Scorpio on November 15 is an excellent day to let bygones be bygones and let go of the past. For some Aries men, it may mean him finally releasing his ties to a previous relationship or possessive ex. 
For other Aries men, this may be an opportunity to reconnect to his emotional self and be vulnerable with you. 
When it comes to attracting the Aries man during this lunation, focus on the present and don't make him feel bad for his past — no matter how dark and scary it could feel. 
At the same time, the New Moon in Scorpio is a time of new beginnings and rebirth, so it's healthy to be honest and open about what you feel. What are your expectations? What are your needs? Make them known now. 
Rather than focusing on what isn't working, focus on how you can strengthen any weaknesses in your connection and fortify your emotional bond. 
It will pay off when the Scorpio Full Moon occurs in six months. 
3. Boost His Self-Esteem
How often do you compliment the Aries man and make him feel appreciated? 
Do you know his love language? 
For those interested in attracting an Aries man in November 2020, you will need to add value to his life, or he won't be interested. 
With so much water energy present in the stars this month (Scorpio season and the Scorpio New Moon), he may be dealing with insecurity issues, and need you to help boost his self-esteem. 
To make matters even more intense, Venus, the planet of relationships, will transit through his seventh house of Libra from November 1 until November 21.
In astrology, the seventh house rules one-on-one relationships and marriage. Libra rules beauty, art, balance, and aesthetics. 
With Venus in his opposite sign of Libra, this transit is excellent for building a sense of balance and harmony as a couple. However, the Aries man may not be feeling like his best self, so why not spread a little love and make him feel good? 
Because Libra loves anything involving self-care, perhaps you could schedule an at-home-massage service or take your Aries man on a special date just you and him. 
If you're unsure what to do to help him feel better, try asking him. You may be surprised at how much you learn when you ask, "What do you need?" 
Read next: 8 Signs an Aries Man Is Committed to You
4. Listen to Him
Communication is not easy with anyone this month, but especially not with the Aries man. 
Therefore, if you want to be able to create a solid connection with him, you'll need to swallow your pride and activate your listening ears. 
Because with Mercury, the planet of communication and thought, retrograde in Libra until November 3, the Aries man may be going back and forth about what he wants for himself and, especially, his one-on-one relationships. 
When Mercury is retrograde, you may experience unexpected communication breakdowns and powerful disagreements. However, once Mercury ends its retrograde and stations direct in Libra on November 3, you will start to see tempers calm and the healing conversations you crave start to flow. 
With Libra representing how one conceptualizes relationships, do not be surprised if you get pulled into the "What are we doing?" conversation.
Regardless of your relationship status with the Aries man, there are things you need to talk about if you want to move forward. For example, are you thinking about entering a monogamous relationship, moving in together, or considering if you even want to go on another date? 
If yes, wait until after Mercury finishes its retrograde transit to have the talk. Just make sure that whatever needs to be discussed is done before Mercury enters sultry Scorpio on November 10. 
On November 10, Mercury will enter the Aries man's eighth house of death and secrets. During this transit, it will be harder for you to get him to open up. 
To avoid getting the cold shoulder, use the harmonizing energy of Mercury in Libra to get on the same page.  
Overall, if you want to win and attract the heart of an Aries man in November 2020, focus on giving him space to breathe, letting go of the past, boosting his self-esteem, and listening to him. 
If you're ready to dive deeper and start your journey to unconditional love with your Aries Man, my guide Aries Man Secrets is better than any daily, weekly, or monthly horoscope app you'll ever read. 
Instead of just giving you the basic knowledge of the Aries man, I share real-life stories and examples of women who have been where you are and now have the relationship of their dreams. In this intuitive guide, I'll share with you my top secrets for winning the heart of the Aries man. If you're ready to stop chasing the Aries man, purchase Aries Man Secrets here.
What are you hoping November will bring to your relationship? Let me know in the comments—I'd love to hear from you!
I look forward to hearing from you. 
Your sister and relationship astrologer,
Anna Kovach 
---
---