Hello darlings, how was the first month of the New Year? Not too busy and tiresome, I hope! Here I come, again, with the Aries man predictions, for the most romantic month of the year, let's dive right in, shall we? 
The first week of February puts Aries man in a very vocal, larger-than-life, and enthusiastic mood. His libido, too, will be larger than life, and you can thank Full Moon in Leo (in his 5th house) trine Jupiter for that. 
2nd week of February has the potential to be both pretty good, and pretty bad. During the first couple of days, his focus will be on you and your needs, but as the week draws to a close, Moon will aspect Pluto on a critical degree in his 10th house, so some gossip and major scandals can take his private life by storm. 
3rd week brings Super New Moon in Pisces and Venus' transit into Aries, this is going to be a heated week for sure, and it's a great time for your guys to go on an adventure together, or participate in a sporting event that will get both your blood pumping. 
4th week is an excellent time for you to be very open and expressive with your emotions, and to go on the very fun and extroverted types of dates, if you feel like it. If not, no problem, you can always make a cozy (or eerie) atmosphere at home, and enjoy yourselves to the fullest, with the cosmic blessing.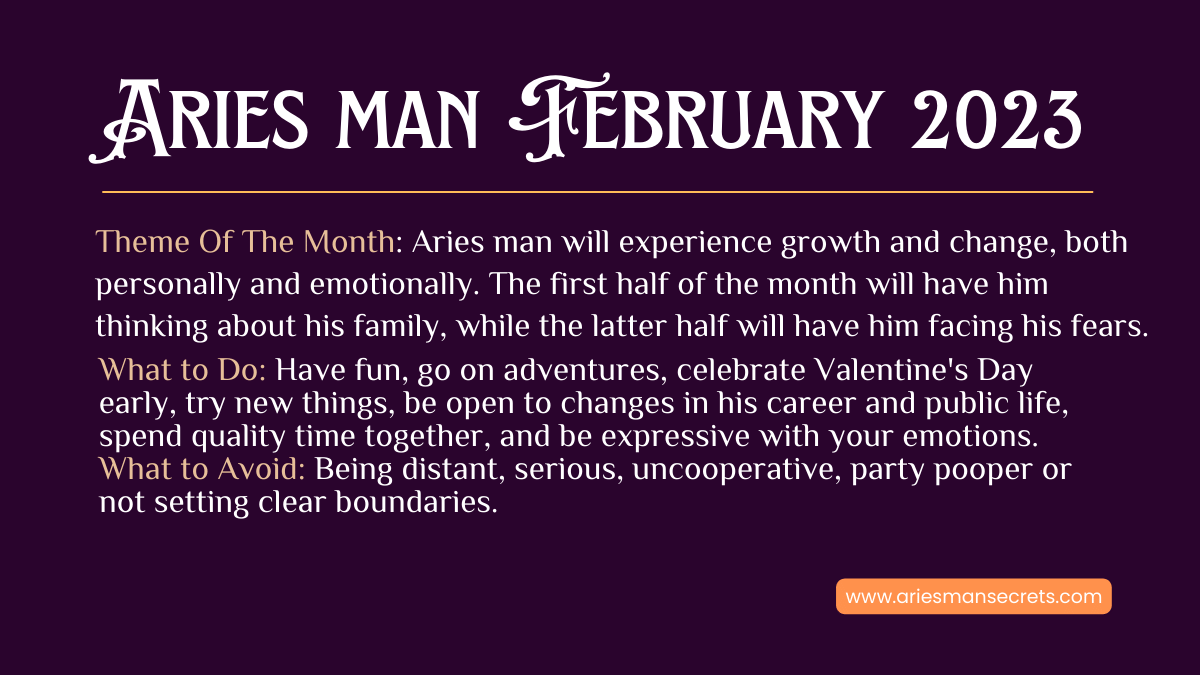 Theme of the month: With Jupiter in his 1st house, the Aries man will experience growth and change, both personally and emotionally. The first half of the month will have him thinking about his family, while the latter half will have him facing his fears.
Magic Phrase: "Let's have some fun and party together!" (on the 5th and 6th) and "Babe, let's snuggle and have a warm embrace. Lay your head on my chest and release all your worries." (on the 20th).
Text Magic: "Want to have a cozy night in, just the two of us? Let's Netflix, cuddle and share our thoughts."
Do: Have fun, go on adventures, celebrate Valentine's Day early, try new things, be open to changes in his career and public life, spend quality time together, and be expressive with your emotions.
Avoid: giving him the cold shoulder, being a party pooper, not being down for action and adventure, being too serious; being uncooperative, not stating your desires, shutting him off; fighting and quarreling, pitting against each other instead of you and him against the world; yelling, selfishness, not setting clear boundaries (for rudeness). 
I came, I saw, I conquered
During the first week, Aries man will feel quite exuberant and optimistic, thanks to Mars being direct again and making a hefty sextile with Jupiter in his 1st house; there's also a Moon in Leo in a trine with Jupiter, adding to the fire party in his head. This first week of February is a perfect time to get it on with him, to go partying, adventuring, and simply having a blast together. 
On the 5th, there's a Full Moon in Leo, and he's bound to be socially (over) active during these couple of days, you may jump on this party train of his if you like, or you may stay in the shadows of his private life – however you prefer, as long as you feel the good vibes. 
He might not be totally understanding of your introverted choices and/or nature at this point in time, as he is reinforced with the crazy, larger-than-life positive energy from Jupiter in his 1st house, (which will also affect his massive libido, and bravado, just saying), but he will appreciate your calming and romantically-nurturing touch at this point in time. 
He's also bound to be more vocal and talkative during the first couple of days of February, so you should be prepared to wear earplugs or muffs when you're out and about. Especially if he's gaming or watching a game or a match on TV. 
Ma'am, yes Ma'am!
In the 2nd week of February, he'll have close encounters with his shadow self and true intimacy; this week is a good time to get down and dirty with him about the inner dynamics of your relationship, and the program beliefs behind his sexual urges and fetishes, if you are so inclined. If not, it's a great week to have loads of sex, pardon my French, the intimacy I meant to say, and to enjoy each other's corporeal forms to the fullest. 
This week he'll also have a lot of drive to analyze and change his daily habits, as well as to try out a new diet. If he is a stereotype of Aries rising man, he'll probably switch up his bulking and cutting diet every now and then, and he'll try to invent new ways to shoot up the protein in his veins, if he can, of course. This is why it's a good time to hit the gym together or try out new stuff in the kitchen, at his suggestion, of course. 
It's also a good time to let him know how he can be of more service to you, and what else can he do to please you. You are in a position of power (over him) during this week, so you may do and suggest as you, please. So, if you have a place or an activity you wanted to visit or do for some time now, now is the time to share it with him. 
This week might also prove to be crucial for his public life and career, seeing how the Moon will trigger the Pluto on the 29th degree in his 10th house, so it might be a good idea to observe his surroundings for any 'danger' and to be alert to scandals and weird signs on the road… 
Let's conquer the world together
During the 3rd week, the scandal theme intensifies, but so does his spite and optimism, I swear, no one can put a damper on Aries man's spirit, aside from himself, of course. He is opinionated, spiteful, and philosophical during this week, and you might be over it and done with it all by the week's end. 
The good thing is that Mercury and Mars are in a positive trine during this week, and this gives him the necessary cool and reason to deal with his problems and scandals. He's also becoming more resourceful and creative, so if his career has come to a sudden close, he's already on the new (war) path, and honestly, good for him. If there were more go-getters on this planet like that, we'd be a lot less passive society. 
This week Venus moves into Aries, and this is a great thing as his lover/partner is symbolized through Venus in his chart, and this means that the two of you are going to be in better alignment and your wavelength will get in sync. Great news, if you ask me, and a great time for adventures!
On the cusp between the 19th and 21st, there's a strong energy of Super New Moon in Pisces, and this sheds a light on his fears, phobias, as well as hidden enemies. Aries man will be wise to plant the seeds of imagination and vision for victory at this point in time, for whatever he sows now, will spurt into magnificent seeds in the near future. 
Shout our love to the heavens and call on the thunder! 
4th and final week brings forth an opportunity to go public with your relationship, or if you already have gone public, to exercise your passion and desire in public. Venus and Jupiter are getting closer to embracing each other, and so does your shared passion rise to the occasion. This is a great time for exhibitionism and emotional expression. 
This is a great time to be verbally open and expressive, thus going out on dates to stand-up comedy, visiting dance shows, and watching lewd musicals is what first comes to mind. But then again, depending on your personal Pluto and Scorpio placements, you might also enjoy, quite a hefty amount, staying at home and binging good horror and serial killer movies, and docuseries. Best of luck in both cases! 
Want to get the guidance to be his dream woman in 2023? Take a look at Aries Man 2023 Secrets here.
Final Word 
And there you have it my darlings, if this hasn't quenched your thirst, you know where to find me, same place, as always.
February stands to be quite an exciting month for Aries man and his companion, so make sure that you're prepared for better or worse, and that you sharpen that warrior spirit. 
I know that during the first half of the month, you won't feel much of a fire in your belly, and you'll be on more of a follower side, but as the tides change, and Venus enters Aries, you can bet your money that you'll be up for a "2nd round", and you'll exit a winner. 
So have fun, go wild, and I'll see you next time around, 
Wishing you love and luck with your Aries Man, 
Your sister and relationship astrologer, 
Anna Kovach
---
---