Looking to blow your Aries man away with a fabulous date? Well, look no further – Astrology has got you covered! Whether you'd like to stay in or go out, there are ideas for every occasion, guaranteed to make him like the most special man in the entire universe! 
Aries men just love to be spoiled! When you make them the center of your universe – in a non-needy way – they will respond by being your biggest hero and supporter! Of course, you still have to let them be the leader, so don't take them out on the town too much, you hear? 
If I could give you one piece of advice, gathered from my years as a Relationship Astrologer, it would be to keep it exciting, spontaneous and fun. This is not the typical romantic type to sit and gaze into your eyes all night at a restaurant. 
He wants action and adventure, and he will be head over heels for you if you plan something thrilling for him. Never forget to look absolutely tantalizing – has the type that loves a short skirt or a cute athletic outfit that shows off your strength and curves! 
So, without further ado, here are my best Date Night Ideas if you're dating an Aries fella: 
7 Great Date Night Ideas With An Aries Man
1. An Adventure!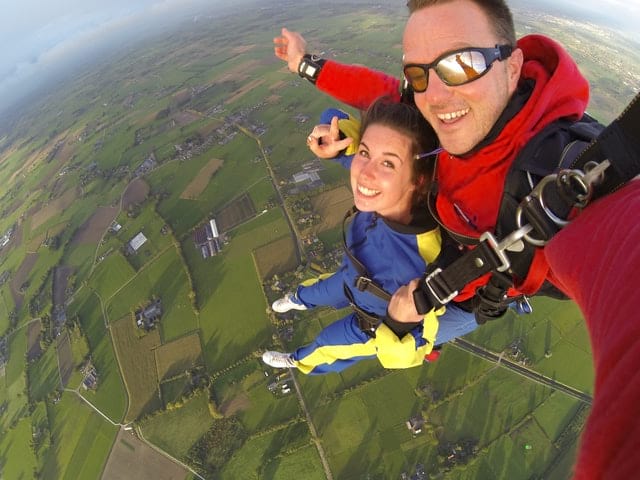 To be perfectly honest, anything that smells and tastes like adventure will make an Aries man wildly happy! Especially if he hasn't done it before for example, bungee jumping, skydiving, a day trip to a new place or anything like that will have him practically drooling over you. 
Be open to doing something that wakes up the daredevil in you – go ahead and take a risk! 
2. Go Play Some Pool At Your Local Bar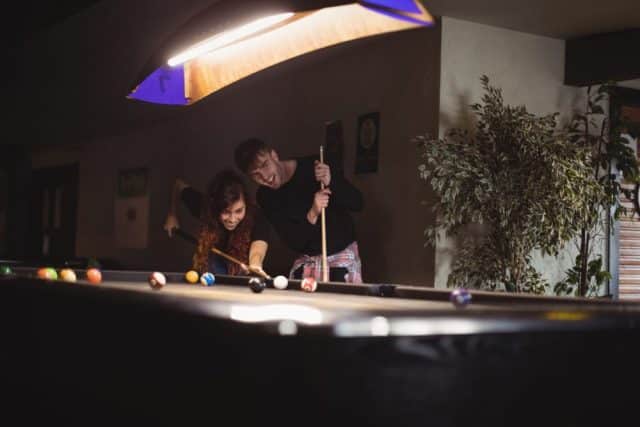 It may sound corny, but it's pretty much guaranteed that going to play a game of pool at your local bar will be a huge hit. Aries men love a beer and a girl who looks good with a pool cue – there's nothing cuter than watching you bend over and take a shot – if you get what I mean! 
Also, this date has the added benefit of making the Aries man feel good about his win – because he will win, you know! 
3. Go Hiking Or Mountain Climbing
Aries men love to be outdoors. Put them at the bottom of a hard trail or mountain hike, and they will go absolutely gaga! They really just love being physically active, so it's a win-win situation. You have a chance to chit-chat without feeling too awkward, so you can get to know each other slowly. 
Plus, who doesn't look good scaling the rocks like a boss? Your Aries guy will love seeing you doing your thing in nature and it'll just make him respect and admire you once you get all the way to the top! 
4. Do Something Spur Of The Moment
Like adventure, Aries man just love doing things at the spur of the moment! Whether it's grabbing your favorite meal at the local restaurant, or doing a midnight stroll at the park, deciding to dress up and go out at the last minute or anything else totally spontaneous, really gets his engine revving. 
Aries men really love a woman who doesn't always need to plan ahead. He enjoys being with someone who can drop everything to have a sudden adventure, big or small. You don't have to do it all the time, but sometimes, it really gives him that satisfying feeling of having really lived. 
So, next time you're wondering, make an existing plan at the last minute and watch his face light up with joy! 
5. Take Him Out And Spoil Him
Here's a little secret about the Aries man: he loves, loves, loves being spoiled. He adores being made a big fuss over and to feel special. Placing him right at the very center of the universe helps him to feel seen and appreciated in every way – and that's when he's at his best, too. 
So, when you want to go on a date, why not make it your turn to take him out and spoil him? Book a fun restaurant, maybe with some dancing, and pay for it all. Maybe you can sneakily pay it when he's not looking, or at the very least, just arrange it if you feel he will be emasculated. 
You might also want to get him a little gift, a surprise to let him know you were thinking of him. He will be ultra-touched and feel like the most loved man in the universe – and that's exactly how you want him to feel, right? 
6. Play A Competitive Game With Him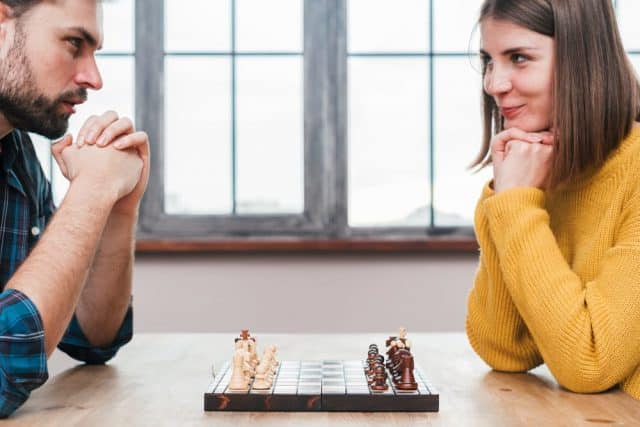 This is one of the very best ideas you can come up with for a fun and exciting date night – play a competitive game with him. The ideas are endless here! You can play a physical game like foosball (you'll really impress him!), or a boardgame of almost any type. 
Of course, you should try and avoid the more "boring" games like scrabble where he will lose interest way too quickly. He does prefer hands-on action, or anything that has a timer on it to increase the pressure! 
If you want it to be extra-fun, you can add drinks to the menu, a sexy outfit, or even a prize that he can win! Tip – make that prize something sexy and physical so that he puts every inch of muscle behind the game. He will love winning and you'll love giving him his reward! 
Read next: 5 Turn Offs That Make A Good Aries Man Leave A Great Woman
7. Seduce Him At Home
If you're not feeling that your wallet is ready for these suggestions at the moment, but still want to give him the experience of his life, you can always plan to stay right at home and seduce him! 
Here, you can plan a delicious, light dinner that you know he loves, followed by a trail into the bedroom (or wherever you prefer) to have his dessert… The best tip is to dig out (or buy your sexiest lingerie – like most men, he is very visually stimulated, and he likes to be tantalized in this way!) 
Plus, with the Aries man, you seldom need to worry about feeling trashy or "too easy" – he's ruled by lusty Mars, so whilst he likes to chase and be a little bit of a predator, he also likes to catch his prey.
He doesn't care if it's the first date or the fourth, because if his blood is roaring for you, he'll find a way to have you! All you have to make sure of is that you do give him a little bit of a chase, and something to look forward to.
So – have you dated an Aries man before, or are you dating one right now?  What do you find he absolutely loves when it comes to the perfect date night? Your tips are important to me, so feel free to leave your ideas in the comments box below! 
If you'd like to learn more about these sexy and fiery men, check out my Aries Man Secrets right here. 
Your friend and Relationship Astrologer,
Anna Kovach
---
---