Have you been dating an Aries man who isn't opening up to you very easily? Do you feel like he's hiding something or just doesn't trust you? Here are some things you should know in understanding this guy. Find out why an Aries man may not be open with his feelings!
He's a "Strong" Guy
This means that he isn't the type of guy that is going to be so forthcoming with his feelings. He doesn't quite know how to process them very well as it is. He will mull things over for long periods of time.
That being said, if he can't be honest with himself about his feelings; this could make it hard for him to articulate his feelings about you or to you. Even when there is something on his mind; he feels it's not manly to open up to you.
It's not that he thinks less of you; it's that he feels showing you his feelings will make him weak or vulnerable. Being the alpha male type; he will not want to show any weaker emotion.
So he may not even talk to his friends about whatever it is that is on his mind. It may be about you, it may be about his family, or really anything else under the sun that may upset him.
He has to maintain that macho "I'm strong" image so that he doesn't feel inferior by anyone. He wants you to think he can handle just about anything that comes his way even if he really cannot.
His Coping Mechanisms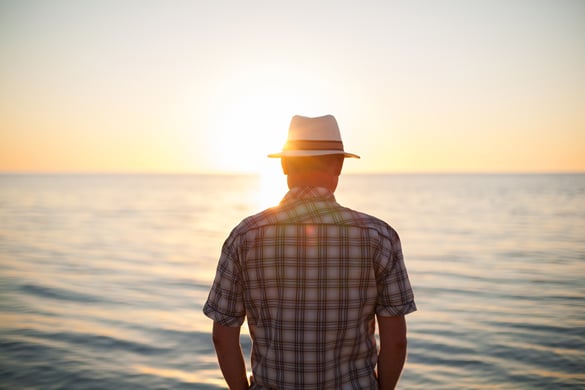 Processing his own feelings will be a hard enough process but to let anyone know he's dealing with it would open up extra questions he's not yet ready to answer or face for that matter.
He'll put his feelings on the back burner until he can spend some time alone to process. This is one of the reasons he likes to have time and space of his own even when he's in a relationship.
It's not that he wants to be away from you or that you get on his nerves; it's so he can wrap his mind around anything he may be dealing with. This can even be things that have nothing to do with you.
He may be having issues happening at work that he isn't sure how he wants to deal with and instead of talking to you to get some ideas; he'll keep it to himself. Far be it for him to bring problems to your doorstep.
His buddies may not hear anything about it either. He wouldn't want to seem like a weakling to them. He'll want them to think he has it all figured out and that his life is just fine.
He'll go drinking with him and just shoot the breeze about anything except his own life. In this way; he'll be rather private. He will not even mention he's dating someone unless she's someone really special to him.
He May Not Feel Close Enough To You
Another aspect to look at would be how close he actually feels to you. If he isn't feeling as though you're someone he can confide in; he may not want to open up to you very easily.
This is something that may come with time but Aries is good at concealing his feelings. When he's angry, everyone knows it though so watch out! When it comes to softer feelings; he won't be so clear.
Since he often will not open up even to his closest friends; it will take for him to be really close to you and comfortable for him to want to talk to you about his problems much less ask you for your advice.
While you may have some amazing advice; he's not going to want to basically put it in your hands as he's the man and he wants to solve the problem himself. So if your Aries man isn't opening up to you; you're not alone.
It's not very macho to open up to your woman and show her your weakness. Asking for her advice is that much worse. This is very much how many Aries men will think when it comes to talking about their problems or feelings.
If he isn't feeling as though you're the woman he wants to settle down with and form a life for the future; he'll not open up to you about how he feels about anything.
He will need to feel VERY secure in who he is with before he will open up; if at all. He's a hard nut to crack for sure.
He May Feel Scared You Will Leave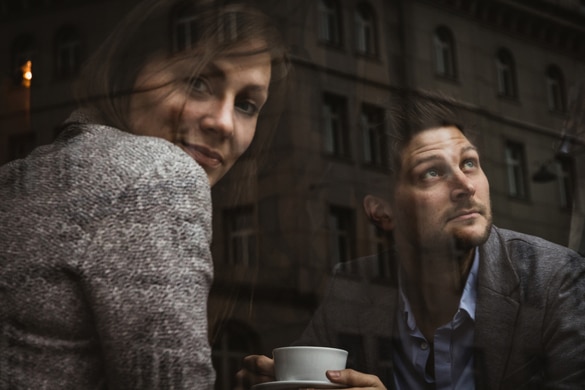 If he does actually feel close to you then he may be afraid to open up to you as you could see him as a lesser man and leave. Again; he sees opening up to someone as a form of weakness.
Baring his soul to you is not something he is able to easily do. Should he do it though; it means he's in love with you and probably feels you're the woman he wants to be with for the long haul.
Naturally he'll be looking for you to give him sound advice and also to lift him up. Admitting his feelings for you will take a lot but once he does; he'll love you hard as he knows no other way.
He's very one way or the other. There is no in between with him. If he finally opens up and tells you how he is feeling about you or anything else for that matter; he's beginning to really trust you.
Take that and build with it. Do everything you can to not discourage him from opening up to you. He wants to feel safe and stable with the woman he will spend his life with.
If he feels he cannot fully open up; he'll probably end the relationship. What does he want? Click here to find out what he wants in a healthy relationship.
---
---