Are you dating an Aries man and wondering what he might be like once you're finally intimate with him? What does he like to do? Will it be good? Here are some things you really must know before sleeping with an Aries man.
Not Much Self-Control
Aries men want what they want in the moment. That means that if you are engaging in the throes of passion; he will not want to stop. Making out will lead to much more if you allow it to.
If you want to become serious with this guy; you may not want to sleep with him too quickly. He'll want it and he'll be willing to give you what you want. However; it may not lead to love.
Sometimes he will agree to enter into a relationship via sex but then if he does this too quickly; he'll find a flaw somewhere in the relationship that he doesn't like and will regret having agreed.
Aries will also have no trouble with a "friends with benefits" relationship either. If this isn't what you want; you'll need to be upfront and tell him you're looking for more.
If you do not; he'll assume that you're ok with sleeping together without any strings attached. Many women end up hurt by the Aries man going along with this way of thinking. He assumes and doesn't ask.
You can expect the Aries man to be very impulsive and will be very eager to dive on into a super steamy experience with you. You'll need to be the one to slow it down.
Expect the Unexpected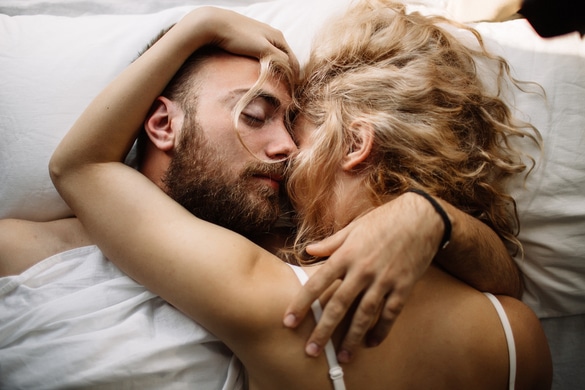 Aries men are unpredictable when it comes to sex. They will want it at any random time and place. You could be out enjoying a nice day at the park and he'll decide he wants to find an isolated place and play with you.
Then again; you could be in a movie theater in the back; he may grab your hand and want you to give him a hand job. Aries men know what they want and when they want it. You'll need to be spontaneous with it.
When you see movies and tv shows where the guy goes under the table to perform oral on his woman at a restaurant; it's probably an eager Aries under that table.
Seriously, he is bold, passionate and wants to do it in different ways, different times, different places, and likes to be spontaneous. So when you're out with your Aries guy; be prepared.
He will pull all the stops when you least expect it. Carry birth control with you if you need to because if the moment strikes him; he'll want you immediately and not want to worry about if there is protection available.
Many unexpected pregnancies have come from Aries men being impulsive. Be very careful if you're not ready to be a mother. On the other hand, enjoy the spontaneous sexual arousal you get with the Aries man.
Aries Man IS an Aphrodisiac
Much like a Scorpio; Aries is naturally drawn to women. He's hot, sexy, charming, and you can just feel sexuality oozing from him. No matter what you do; when he touches you; you just melt.
You can even be across the room from him but as soon as he looks at you; you're done for. He kisses you; you're ready to do anything for him. This is especially true when he kisses your face and neck. It's electrifying!
Just as he can get your motor running; he'll also keep that momentum going if you both decide to be intimate. If you aren't ready though; you better speak up. He won't take too well to getting worked up and then being shut down.
Only play with the Aries man when you're ready to go all the way. Otherwise; kissing then parting ways before things get hot is probably the best tactic if you're trying to take it slower.
If you ARE ready to play with the Aries man, enjoy the splendor this man will provide you. He is a sexual beast in bed. Him turning you on easily is only the tip of the iceberg.
Make Sure You Get Yours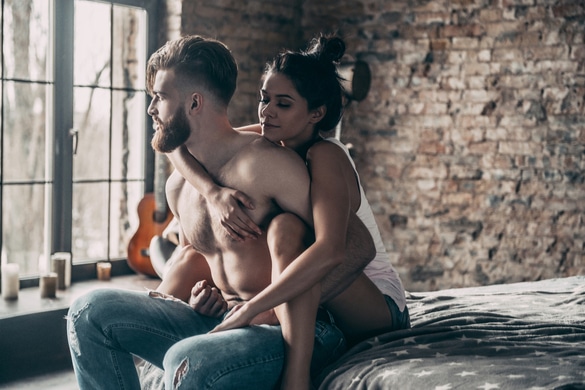 Sometimes Aries becomes so selfish in bed; he loses sight of the fact that you have needs also. He'll get things going with you but then after he gets what he wants; he'll want to lay back and be done.
For the best results; get him to help you orgasm first and then you can do whatever it is he wants so that he can then be on the same page with you. You'll have to tell him what it is you want.
He's not good at guessing what will work for you as is the case with most men. Speak up and tell him what pleases you and what you'll need for maximum pleasure.
Be aware though; he may want to go first but if you allow him to do that; you may lose him after he orgasms. He will space out, get tired, and possibly fall asleep. This is why I say it would be better if you went first and then finish him off.
The two of you will have to find your own rhythm to make it work for what you both need. Just make sure that you get what you need. Don't fake it and don't tell him he's doing a great job if he isn't.
Tell him the truth and make sure he understands what has to happen for both of you to achieve the maximum in pleasure.
He Likes it Rough!
If you're not one to like it rough; Aries may be too aggressive for you. Aries men like to take it to the limit as much as possible so that he can have maximum self-pleasure. This will mean doing it doggie style or perhaps sitting on a chair; table, etc.
Find out more about what turns an Aries man on by clicking here. Hopefully, this gives you an idea of what it may be like to be with an Aries man in a sexual way.
---
---