Wondering what the Aries guy likes best when it comes to how his ladies dress? This is a man with very definite tastes and preferences. You can do so much when you learn his favorite outfits, cutting through some of the hard work of seducing him and capturing his heart! 
The sign of Aries is ruled by the planet Mars, the planet of lust and desire. More than most, these men just love women dressing in sexy, feminine outfits that make their masculine protectiveness and desire come out in full force! 
However, do keep in mind that this man tends to not be the most discerning type, which can work in your favor. He won't know the difference between one label and the next, for example, or notice if you wore it twice. He doesn't really care about all of that. 
He's also not really the type to see if you cut your hair for him or tried a new style of makeup. He's more interested in taking your clothes off, in all honesty. You represent a delicious package that he just can't wait to unwrap!  
Knowing this doesn't mean that you should make less of an effort. The better the package looks, the more he will chase you – and you get to be the one to call the shots! In fact, if you keep him wanting more, that's the way to get his heart! Dress to kill, but never let him unwrap his package right away! 
Here are seven of my best tips on how to dress for the Aries fella in your life, gathered from my experience as a Relationship Astrologer. 
7 Ways To Dress For The Aries Man In Your Life
1. Racy And Sexy

Because he's ruled by Mars, the Aries man does like a look that seems rather racy, sexy, and seductive. For example, lacing up anything will appeal to him, whether it's leggings or knee-high boots. 
However, be careful not to veer on the side of trampy – he still likes his women to be quite feminine in their dress sense. But adding a few sexy touches here and there, showing some cleavage, some leg, or sheer fabrics will never hurt!
Leave a little something to his imagination. He likes to have something to wonder about. 
2. Athletic
One of the best ways to catch the eye of an active, sporty Aries guy is to dress athletically. This will communicate to him that you love a good sweat, which is majorly important to him. 
Get yourself some sexy leggings that outline your rear end in the most flattering way, and top it off with a sheer workout shirt! 
And don't neglect footwear. The typical Aries guy loves a good pair of track shoes, and will notice if he's dating a girl who wears shoes that allow her to traverse any adventurous terrain! 
There are so many options to choose, from cropped hoodies (yum!) paired with high leggings, to streetwear that looks cool and hot at the same time. 
3. Lots Of Red!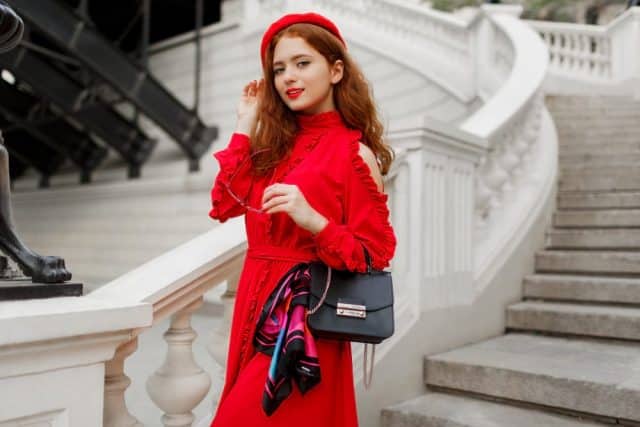 The color of the planet Mars, and thus of Aries, is fire-engine red. This is known to be a color that attracts attention, and you do want to draw his eye straight onto you and no one else! 
The archetypal "lady in a red dress" is totally his thing! Whether it's a tight-fitting, power office dress, a flowing red maxi-dress, or a gorgeous red blouse, it doesn't matter. You might even just want to splash some red on your lips, because that works, too! 
Make red your color to wear, even if you've never thought of it before. Try out some different shades and be a little bit daring, why don't you!  
4. Fancy Dress – For The Occasion
Fancy dress means fun! And there's nothing an Aries loves more than a bit of fun! Dressing up, using all kinds of cool accessories, such as fishnets (super-sexy!) or something like that. 
This is the type of guy who will also respond well to the more cliched kind of outfits, such as the sexy nurse or naughty cheerleader. The next time you go to a fancy-dress party, go crazy! Or maybe throw a party yourself – why not? 
5. Make Sure You're Wearing Gorgeous Lingerie
Seeing as you are a delicious package that will eventually, be "unwrapped," you'd better make sure you are wearing the best lingerie you can find! Aries men are especially responsive to sexy underwear, as well as nicely-fitting sporty underwear, too.
Whether lace, leather, or sheer, review your underwear when you next go out with him to make sure it's very alluring! You'd do that anyway, of course, but just make extra-sure. 
He does tend to prefer red or black, and the current fashion of lots of straps will have him very excited, too! If you're playing it sweet, white will do… but make sure that you act the part! 
Don't forget stockings and suspenders, if you can. This is the cherry on the cake, and is oh-so-sensual! 
6. A Great Leather Jacket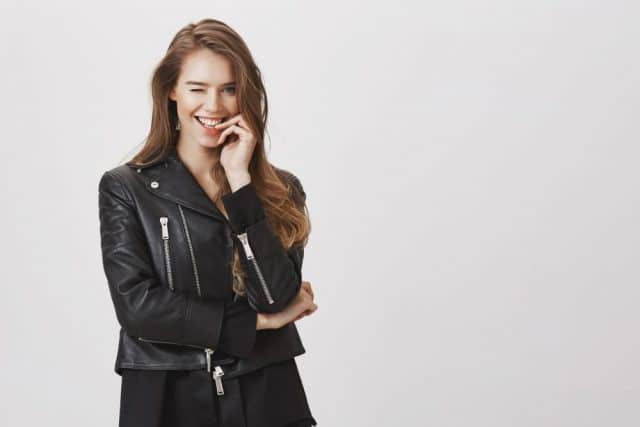 Every woman needs a good leather jacket. Dating an Aries man is a great excuse to go out there and get yourself that dream jacket you've always wanted. He really loves that semi-hardcore, tough-girl look, especially when teamed with a pretty feminine dress. To die for! 
Not into leather? Vegan? That's okay, you get plenty of pleather options, too. There are also a multitude of styles that can suit any woman, whether biker-style or more classic. 
If you really want to push it, he may be into leather leggings, too, especially when teamed with a pair of killer heels. This is especially tantalizing for the Aries guy who is a biker or loves bikes. He practically grew up drooling over babes in leather! 
Read next: Shy Aries Man: How to Know What He's Thinking?
7. Dress Like A Woman
Finally, something to always, always keep in mind when dating the Aries guy is that he does love a woman who's feminine. It inspires his more protective, masculine side, and makes him, well, feel like a man. 
This means having plenty of flirty, pretty dresses, wearing your makeup, and having gorgeous jewelry to go with what you're wearing. It means being okay with skirts and flowing blouses, with flower prints and having your hair done prettily. 
You see, Aries men also love a bit of a trophy. It doesn't have to be shallow – it can just feel nice knowing that your man is proud of using his sweet feminine woman off. He wants to find a girl who's naughty but nice! 
So, do you have any tips you'd like to share on how to dress for an Aries guy? Have you ever dated one of these signs, or dating one right now? what do you find turns his switch on – and what does he seem to dislike? Do any of these tips work for you? 
I just love hearing from you, my readers. Your stories mean the world to me, and I will always get back to you with a comment or two! Leave your tips in the comments box below – I look forward to hearing from you! 
And see what the stars have to say about you and your Aries guy, if you two are the perfect match! Take my free compatibility quiz here.
Your friend and Relationship Astrologer,
Anna Kovach
---
---